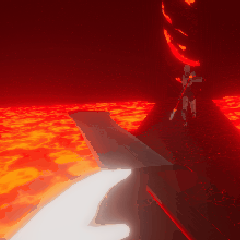 We are revamping the look and feel of the demo levels we showed off at PAX South. We are taking all the feedback we received and we're improving the feel and flow of the game.
The lava level really feels like it would be unbearably hot. The ninjas and samurai now are more metallic and realistically take the lighting of the scene and glow eerily red with the burning hot environment. Overall, the mood and feel of the lava level is drastically different and the enemy paths are more obvious. We're really proud of how it all looks. But we're not gonna stop there!
We're fixing many things including the way that you progress through waves. In the animated gif above you'll see a glowing orb with a number by it. That helps you better map out what the next area will look like before you slash it to progress.
There's so much we want to tell you about, but this post is getting too long as it is. We'll make sure to post a changelog along with the latest updated version of the game REALLY soon.
Get your Swords ready!
-The Battlerock Team